Dancing Beyond the Shadow
Through visual arts and group process, Jean leads us into the discovery of our own shadow, that part of our personal depth story that propels us toward change. Our personal stories reflect the larger stories rising through us now - from nations, cultures and the planet itself.
This includes a wonderful retelling of the Shadow story in the Garden of Eden, which leads us to the knowledge of distinctions of light and shadow. In this session, Dr. Houston draws on the power of personal and group dynamics.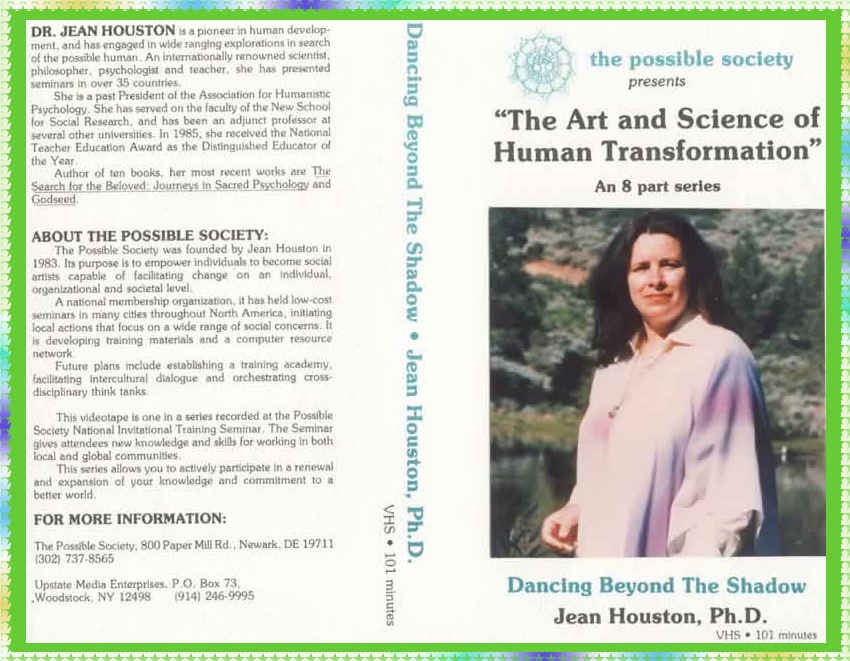 Human Potential. 101 minutes, DVD $29.95
Shipping fees are as followed:
$5.50 for USA
$7.95 for Canada and
$9.95 for Europe
For orders of more than one DVD, please contact us.
SHIPPING AND HANDLING COSTS* **

MERCHANDISE SUBTOTALS

REGULAR DELIVERY

RUSH DELIVERY

EXPRESS DELIVERY

Up to $25.00
$5.50
$10.50
$18.00
$25.01-$55.00
$7.50
$12.50
$20.00
$55.01-$100.00
$9.95
$14.95
$22.45
$100.01-$150.00
$12.50
$17.50
$25.00
$150.01-$200.00
$14.95
$19.95
$27.45
$200.01+
$16.95
$21.95
$29.45
*New York residents add appropriate sales tax.
**For International orders please email us.


Call in your order 10am - 8pm EST
845 - 246 - 0600
Fax orders 24 / 7
845 - 246 - 7763

TITLE

Jean Houston Dancing Beyond the Shadow

© Woodstock Museum A nonprofit 501(c) (3) educational institution
for tech support on this site send email HERE