Dr. Jean Houston sets the perspective of "what it's like to be here now" -at this critical point in human history, and how we can rise up to meet the challenging responsibilities at this time of evolutionary governance.
Using processes - the crossing of the crystal bridge and its empowerment, heart-to-heart linking, and the ancient dance of Enos Mythos - the participants discover the ingredients they need to fulfill themselves as planetary stewards. Again, visionary art and beautiful nature imagery enhance the presentation.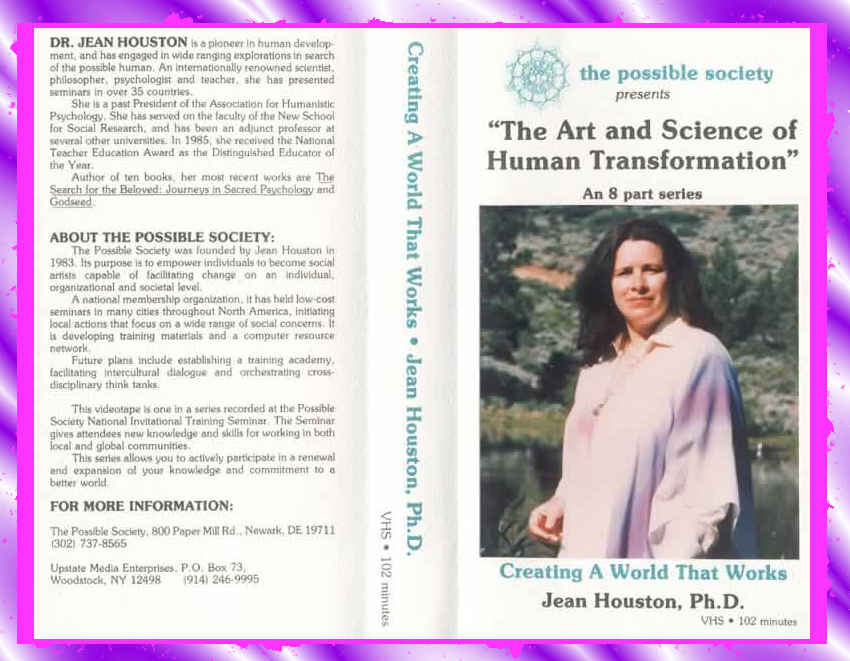 Human Potential. 102 minutes. DVD 29.95
Shipping fees are as followed:
$5.50 for USA
$7.95 for Canada and
$9.95 for Europe
For orders of more than one DVD, please contact us.
SHIPPING AND HANDLING COSTS* **

MERCHANDISE SUBTOTALS

REGULAR DELIVERY

RUSH DELIVERY

EXPRESS DELIVERY

Up to $25.00
$5.50
$10.50
$18.00
$25.01-$55.00
$7.50
$12.50
$20.00
$55.01-$100.00
$9.95
$14.95
$22.45
$100.01-$150.00
$12.50
$17.50
$25.00
$150.01-$200.00
$14.95
$19.95
$27.45
$200.01+
$16.95
$21.95
$29.45
*New York residents add appropriate sales tax.
**For International orders please email us.


Call in your order 10am - 8pm EST
845 - 246 - 0600
Fax orders 24 / 7
845 - 246 - 7763

TITLE

Jean Houston Creating A World That Works
© Woodstock Museum A nonprofit 501(c) (3) educational institution