Original Woodstock Museum Film and Video Festival
August 29-31, 2008 * Labor Day Weekend
Woodstock Town Hall * Woodstock, New York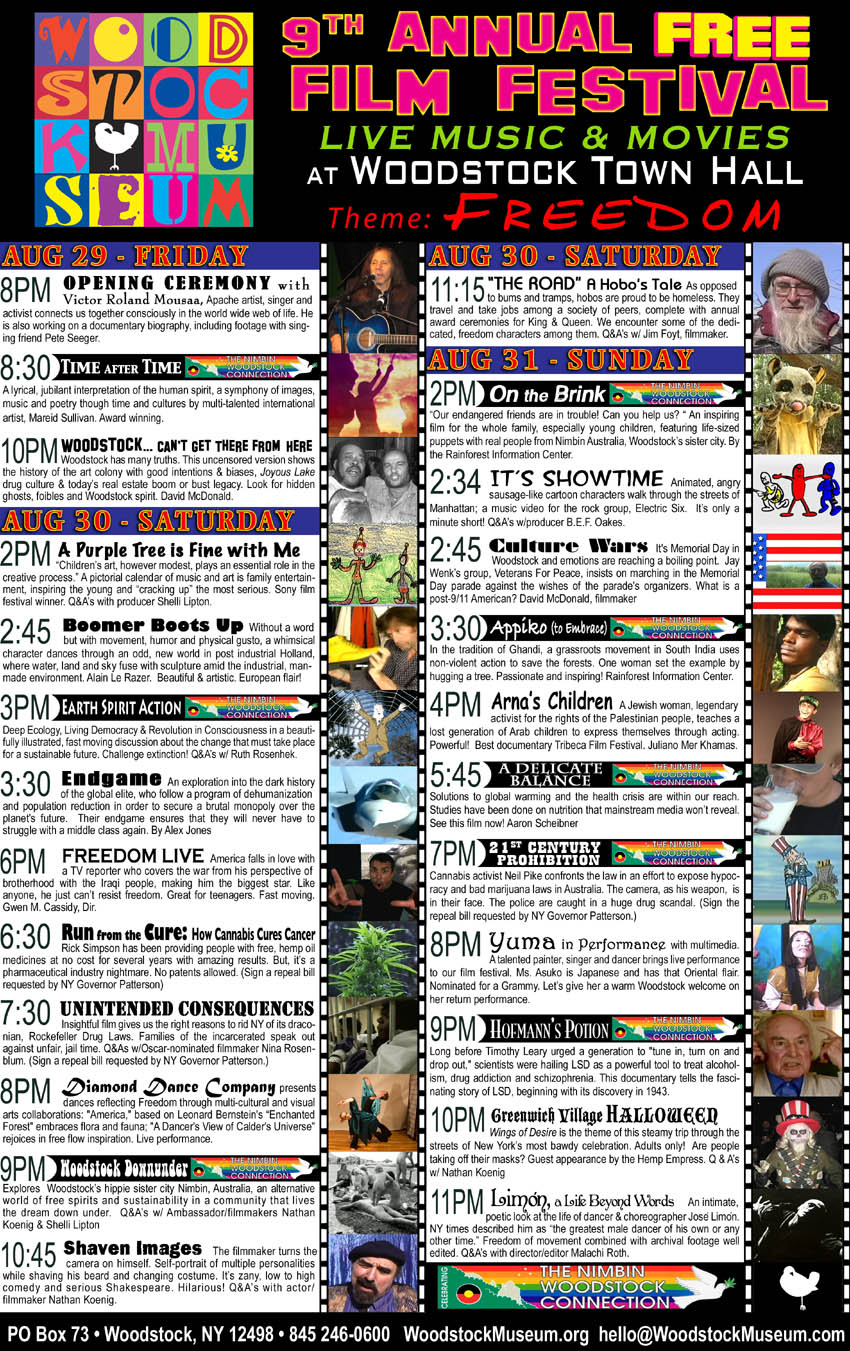 for a .PDF printable version of this years poster click here 7.44 megs

Woodstock Museum, P.O. Box 73, Woodstock, NY 12498, 845-246-0600.
www.WoodstockMuseum.org or email: hello@WoodstockMuseum.com
Woodstock Museum is a non-profit 501(c)3 educational institution
INSPIRATION THROUGH FILM

Friday August 29th
8PM Opening Ceremony with Victor Roland Mousaa, Apache artist, singer and activist connects us together consciously in the world wide web of life. He is also working on a documentary biography, including footage with a singing friend Pete Seeger.
8:30 Time after Time A lyrical, jubilant interpretation of the human spirit, a symphony of images, music and poetry though time and cultures by multi-talented international artist, Mareid Sullivan. Award winning. (Nimbin logo)
10PM Woodstock…Can't Get There from Here, Woodstock has many truths. This uncensored version shows the history of the art colony with good intentions & biases, Joyous Lake drug culture & today's real estate boom or bust legacy. Look for hidden ghosts, foibles and Woodstock spirit. David McDonald.
Saturday, August 30th
2PM A Purple Tree is Fine with Me "Children's art, however modest, plays an essential role in the creative process." A pictorial calendar of music and art is family entertainment, inspiring the young and "cracking up" the most serious. Sony film festival winner. Q&A's with producer Shelli Lipton.
2:45 Boomer Boots Up Without a word but with movement, humor and physical gusto, a whimsical character dances through an odd, new world in post industrial Holland, where water, land and sky fuse with sculpture amid the industrial, man-made environment. Alain Le Razer. Beautiful & artistic. European flair!
3PM Earth Spirit Action Deep Ecology, Living Democracy and Revolution in Consciousness in a beautifully illustrated, fast moving discussion about the change that must take place for a the sustainable future. Challenge extinction! Q&A's w/ Ruth Rosenhek.
3:30 Endgame An exploration into the dark history of the global elite, who follow a program of dehumanization and population reduction in order to secure a brutal monopoly over the planet's future. Their endgame ensures that they will never have to struggle with a middle class again. By Alex Jones
6PM Freedom Live America falls in love with a TV reporter who covers the war from his perspective of brotherhood with the Iraqi people, making him the biggest star. Like anyone, he just can't resist freedom. Great for teenagers. Fast moving. Gwen M. Cassidy, Dir.
6:30 Run from the Cure: How Cannabis Cures Cancer Rick Simpson has been providing people with free, hemp oil medicines at no cost for several years with amazing results. But, it's a pharmaceutical industry nightmare. No patents allowed. (Sign a repeal bill requested by NY Governor Patterson.)

7:30 Unintended Consequences Insightful film gives us the right reasons to rid NY of its draconian, Rockefeller Drug Laws. Families of the incarcerated speak out against unfair, jail time. Q&As w/Oscar-nominated filmmaker Nina Rosenblum. (Sign a repeal bill requested by NY Governor Patterson.)
8PM Linda Diamond & Co. presents dances reflecting Freedom through
multi-cultural and visual arts collaborations: "America," based on Leonard Bernstein's "Enchanted Forest" embraces flora and fauna; "A Dancer's View of Calder's Universe" rejoices in free flow inspiration. Live performance.
9PM Woodstock Downunder explores Woodstock's hippie sister city Nimbin, Australia, an alternative world of free spirits and sustainability in a community that lives the dream down under. Jeff Moran greets Nimbin on film. Q&A's w/ Ambassador/filmmakers Nathan Koenig & Shelli Lipton.
9PM Woodstock Downunder Woodstock's hippie sister city Nimbin, Australia. Explore this alternative world of free spirits in a community that lives the dream down under. Woodstock Town Board Supervisor Jeff Moran speaks on film. Q&A's w/ Ambassador/filmmakers Nathan Koenig & Shelli Lipton
10:45 Shaven Images The filmmaker turns the camera on himself. Self-portrait of multiple personalities while shaving his beard and changing costume. It's zany, low to high comedy and serious Shakespeare. Hilarious! Q&As with actor/filmmaker Nathan Koenig.
11:15 "The Road" a hobo's tale As opposed to bums and tramps, hobos are proud to be homeless. They travel and take jobs among a society of peers, complete with annual award ceremonies for King & Queen. We encounter some of the dedicated, freedom characters among them. Q&As w/ Jim Foyt, filmmaker.
Sunday, August 31st
2PM On the Brink "Our endangered friends are in trouble! Can you help us? " An inspiring film for the whole family, especially young children, featuring life-sized puppets with real people from Nimbin Australia, Woodstock's sister city. By the Rainforest Information Center. Sundsy
2:34 It's Showtime Animated, angry sausage-like cartoon characters walk through the streets of Manhattan; a music video for the rock group, Electric Six. It's only a minute short! Q&A's w/producer B.E.F. Oakes.

2:45 The Culture Wars It's Memorial Day in Woodstock and emotions are reaching a boiling point. Jay Wenk's group, Veterans For Peace, insists on marching in the Memorial Day parade against the wishes of the parade's organizers. What is a post-9/11 American? Filmmaker, David McDonald

3:30 Appiko (To Embrace) In the tradition of Ghandi, a grassroots movement in South India uses non-violent action to save the forests. One woman set the example by hugging a tree. Passionate and inspiring! Rainforest Information Center. (Nimbin logo)
4PM Arna's Children A Jewish woman, legendary activist for the rights of the Palestinian people, teaches a lost generation of Arab children to express themselves through acting. Powerful! Best documentary Tribeca Film Festival. Juliano Mer Khamas.
5:45 A Delicate Balance Solutions to global warming and the health crisis are within our reach. Studies have been done on nutrition that mainstream media won't reveal. See this film now! Aaron Scheibner (Nimbin logo)
7PM 21st Century Prohibition Cannabis activist Neil Pike confronts the law in an effort to expose hypocracy and bad marijuana laws in Australia. The camera, as his weapon, is in their face. The police are caught in a huge drug scandal.
(Sign the repeal bill requested by NY Governor Patterson.)
8PM Yuma in Performance with multimedia. A talented painter, singer and dancer brings live performance to our film festival. Ms. Asuko is Japanese and has that Oriental flair. Nominated for a Grammy. Let's give her a warm Woodstock welcome on her return performance.
9PM Hofmann's Potion Long before Timothy Leary urged a generation to "tune in, turn on and drop out," scientists were hailing LSD as a powerful tool to treat alcoholism, drug addiction and schizophrenia. This documentary tells the fascinating story of LSD, beginning with its discovery in 1943. (Nimbin Logo)
10PM Greenwich Village Halloween Wings of Desire is the theme of this steamy trip through the streets of New York's most bawdy celebration. Adults only! Are people taking off their masks? Guest appearance by the Hemp Empress. Q & A's w/ Nathan Koenig
11PM Limon, a Life Beyond Words An intimate, poetic look at the life of dancer & choreographer Jose Limon. NY times described him as "the greatest male dancer of his own or any other time." Freedom of movement combined with archival footage well edited. Q&As with director/editor Malachi Roth.

What? Woodstock Museum 9th Annual Film &Video Festival
Where? Woodstock Town Hall, 76 Tinker St., in Woodstock, NY
When? Labor Day Weekend, Aug. 29, opening ceremony 8PM & Aug. 30-31, 2008, starts at 2PM
What's the deal? You can attend FREE screenings & workshops.
What to expect: This year's theme is "Freedom". View & critique alternative films, meet the filmmakers, and study Film Scoring with key professionals in a three hour workshop.

http://www.WoodstockMuseum.org or email: hello@WoodstockMuseum.com
or call 845 246-0600.